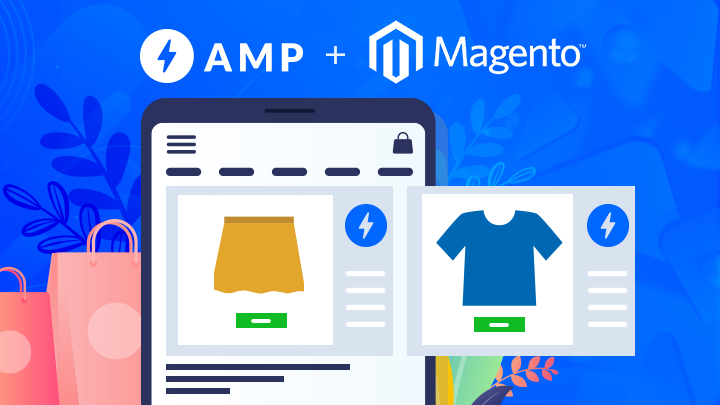 Editor's Note: the following guest post was written by Oleh Lustiv, President, Plumrocket Inc
Plumrocket is a full-service eCommerce agency located in New York. The company was established in 2008 and very soon became one of the early adopters of the Magento eCommerce Platform. Magento is written in PHP on top of the Zend Framework and consists of core code and optional extensions. While a standard Magento installation offers a wide variety of features, the majority of Merchants still choose to add third-party extensions for extra functionality. 
After a number of successful Magento projects were launched, Plumrocket decided to start creating Magento Extensions to offer new opportunities to its growing client base. Since then, 60+ Plumrocket extensions and themes have been installed on 55,000+ Magento stores.
Why Did Plumrocket Go with AMP?
Back in 2016, Magento merchants were struggling with their e-commerce site performance on mobile. The Plumrocket team had a goal to constantly innovate and be the first in implementing new trends and technologies whenever possible. That's how the AMP extension for Magento came to life. We knew that AMP was the solution to achieve performance improvement. With AMP implemented in e-commerce, our clients could immediately see mobile bounce rates drop by up to 20%, traffic increased by 35% and conversions went up by up to 15%, as was observed by several clients who adopted the AMP extension. 
For e-commerce businesses, such a huge difference in performance was night and day from where it was before AMP was implemented. We quickly realized that AMP was an amazing solution for e-commerce and especially Magento stores. Our team started adding lots of new features and integrations with other third-party providers. Since then, the rate of adoption has greatly accelerated. 
Here are the main benefits of AMP for e-commerce: 
Fast load time;
Reduced bounce rates and longer time-on-site;
Increased traffic and conversions;
Increased efficiency of ad campaigns;
and more!
No Native AMP Support in Magento
AMP for e-Commerce remains a promising but challenging technology. On the Magento platform, merchants and their developers don't have a simple way to implement AMP due to certain limitations in architecture, which are discussed below with possible solutions. 
While we don't see any challenges in implementing AMP using plain PHP language, difficulties arise when you begin implementing AMP for e-commerce platforms.
Challenges in Technology:
| | |
| --- | --- |
| Challenge | Possible solution |
| Magento Framework has its own template system and complex logic behind it. | Requires replacing entire blocks of the site with the equivalent in AMP.  |
| Multiple issues will appear when third-party Magento themes and extensions are installed. In many cases, they will add custom code to your AMP theme, triggering AMP validation errors.  | You will have to go over each issue and try to disable the conflicting extension in AMP mode or create custom functionality to support AMP. |
| Default WYSIWYG editor, as well as Magento Page Builder, works only with regular HTML content. AMP HTML mark-up is not supported out of the box | You need to properly allocate which elements will be replaced automatically and which ones should be replaced with your own implementation. |
| The most difficult thing is to reproduce complex dynamic site elements in AMP mode. In order to implement the same JS logic across all website versions, developers must find a way to fit all JS code on-page in the 150kb limit enforced by AMP specs. | Very often, moving standard Magento code to AMP is not viable and requires to completely rewrite and minimize the JS code. |
| A front-end developer will face similar obstacles when working on store design in AMP mode since the maximum size of CSS is also limited to 75kb.  | There are multiple techniques that can help you minimize CSS size, such as using CSS shorthands, grouping similar styles, removing unused CSS, compressing css, etc.  |
What Makes the Plumrocket AMP Extension a Great Solution?
Now that you've gotten acquainted with the key aspects of the Magento platform and the biggest challenges, let's look closer at the Magento AMP extension from Plumrocket and learn the main benefits of the plugin. 
Plumrocket has been constantly working on this extension since 2016. We have implemented a lot of features and integrations with third-party plugins and themes. We successfully resolved many of the issues described above. Now we are proud to offer a stable product that should satisfy even the most demanding customers.
1. Create AMP Pages in a Few Clicks
Merchants can generate AMP Pages for store Homepage, Category, Product, and CMS Pages. AMP Homepage content can be edited from the Magento backend. Any HTML or text entered in product or category descriptions will be automatically converted into AMP mark-up.
2. Speed Up Mobile Page Load
Magento AMP extension lets merchants reduce the average page load time to less than half a second. Faster page load speed enhances your online store performance and decreases bounce rates, increases traffic and conversions. 
On average in our sample of 58 eCommerce Magento URLs benefiting from the Plumrocket AMP Extension we see significant reductions across all the Core Web Vitals metrics when comparing non-AMP to AMP versions of the same pages. 
3. Improve SEO Features 
The AMP extension will automatically add rich snippets in Magento AMP pages. The built-in integrations with Google Analytics and Google Tag Manager will help you track your website visitors and enable additional services at your store.
4. Take Advantage of Third-Party Magento Themes Support
Plumrocket AMP module works independently from any third-party theme installed at Magento store. This enables stable performance of AMP templates alongside any existing responsive or mobile theme. 
Plumrocket AMP Extension for Magento is rich with a number of features, yet it is important to know how the extension works. You can test the plugin in action by running a free demo or read the documentation for useful insights.
Also, if you want to explore the examples of AMP implementation on the various e-commerce sites, consider the following article: "AMP on the Most Popular E-Commerce Websites." For more details on the plugin, please, explore the next video:
AMP Extension for Magento: Case Studies
There are a number of businesses which successfully implemented the Magento AMP plugin provided by Plumrocket and here are their feedback: 
"Time to Upgrade" company states that overall mobile traffic has increased up to 25%, and conversion rate has grown up to 10% after extension's implementation. Also, the company managed to lower the bounce rate by 7%. They have noticed that there was less cart abandonment during loading and moving to the website, which improved a number of purchases. "Time to Upgrade" loves the results and believes that AMP provides more opportunities not only for the business processes but also enhances the customer experience. 
"Greek Flavours"  has implemented AMP on all website pages. The team members noticed the immediate impact after AMP implementation. They detected a steady increase in sessions, and mobile traffic increased by up to 50% after the AMP implementation. They claim that the improved page load time increased their revenue and doubled the mobile conversion rate. The faster user experience is helping the customer in scouting the website and exploring the products. The mobile average order value is steadily increasing, meaning that the users find their online proposal more consistent and relevant to their expectations.
"Kondom Varuhaset" have analyzed their numbers and noticed the revenue from organic traffic grew by 14%. It took only a couple of days to implement the plugin into their business strategy, and they saw the immediate results in faster page loading and traffic increase. The company is satisfied with all features and tools of the Magento AMP extension provided by Plumrocket and states that it has great potential in the future. 
Vision For the Future
As you can see, Plumrocket offers a number of robust features with the Magento AMP extension allowing customers to accelerate the speed of their ecommerce website and their business success. However, the company is not going to stop and will continue to move forward to new achievements. The coming months should bring the release of a new version of the AMP extension.
The updated module will add lots of extra features: new design, support for AMP themes, statistics, new widgets and components, and other important features are coming in the next updates. New features will make it even easier for Magento Store owners and developers to implement AMP in ecommerce and increase website performance and revenue.