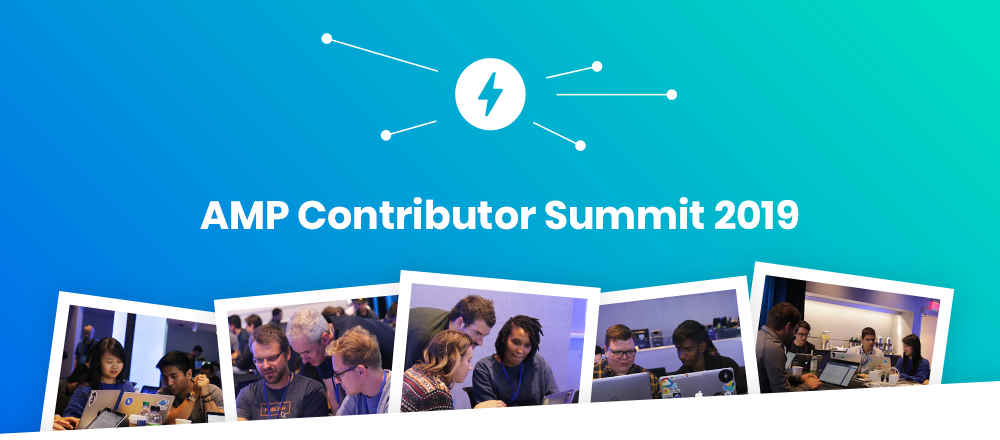 Last week around one hundred contributors joined us in NYC to catch up face-to-face and discuss exciting new developments in the world of AMP. 
We mixed in a lot of different formats this year; pairing up expert talks with active breakout sessions. We also opened the floor up to more informal conversations, which gave the community more opportunities to share ideas. 
The big news this year? AMP is joining the OpenJS Foundation incubation program! It's an exciting development, which will open up key support services while allowing AMP to maintain our own identity, technical focus, and product direction. Check out the ripples the Summit made on Twitter here.
The excitement builds!
With contributors arriving from around the world – there was plenty of buzz descending on NYC. It was so awesome to see groups that usually communicate through Slack and Github come together to build stronger friendships.
🇮🇳✈️🇺🇸

See you soon @Google NYC@AMPhtml#AMPcs2019 pic.twitter.com/zDJpvf6ogu

— Mufaddal Motiwala (@mufaddalmm) October 7, 2019
We're getting #ampcs2019 started with a Hackathon / New Contributor Workshop! It's great seeing the AMP community come together for our annual summit. pic.twitter.com/khAh1Zdiwq

— Joey Rozier (@mrjoro) October 8, 2019
I'm in NYC this week at the AMP Contributor Summit held at Google. So nice to meet other contributors in person and collaborate. #ampcs2019 plus I get to hang out with @BeTheBreeze pic.twitter.com/ViZuYYuW4V

— Jackie D'Elia (@jdelia) October 9, 2019
AMP Contributor summit is happening. #ampcs2019 #ampstory And I can't wait to show @ampstor_team to the world 😎 pic.twitter.com/DuVRmyIqk8

— AnitaKirkovska (@anitakirkovska) 9 October 2019
Bombshell after bombshell
There were some big announcements throughout the event – from new features to the big news about AMP joining the OpenJS Foundation. On top of that, the breakout sessions got everyone working together to build their skills and grab a sweet treat in the form of AMP cupcakes! 
AMP components will be available outside AMP documents 😱

Keynote by @cramforce at the @AMPhtml contributor summit in @Google #nyc #ampcs2019 pic.twitter.com/hRFGCnE8I5

— Juan Lizarazo (@JuanLizarazoG) 9 October 2019
So that happened!

"We're rewriting AMP in React"

Do note the asterisk though. It'll probably be Preact rather than React and it's still just a PoC but it's happening!#amp #ampcs2019 pic.twitter.com/rVoZa6f4tG

— Morten Barklund (@barklund) 9 October 2019
What an amazing breakout about AMP WordPress Plug-in and #AMPStories!✨

Look at this super talented community!#AMPcs2019 pic.twitter.com/ButYefbVdZ

— Leo Martinez Davis (@thatleomartinez) 9 October 2019
#AMPStories continue to get better! We are always finding different ways for the user to interact with the content, share it, etc.

Future improvements include embeds, animations, reactions, and branching into other stories.#AMPcs2019 pic.twitter.com/P6E9vtQDyp

— Leo Martinez Davis (@thatleomartinez) 9 October 2019
Tempted to try this tasty new <amp-cupcake> component… @AMPhtml #AMPcs2019 pic.twitter.com/oPyLdLJADF

— Pascal Birchler (@swissspidy) 10 October 2019
Hot News!! AMP is joining the OpenJS Foundation. #AMPcs2019 @openjsf pic.twitter.com/HogNxlHFnZ

— Alex (@alexmarket) 10 October 2019
The dust settles
Nothing brings people together more than shared interests. The last few days have been a fantastic opportunity for the AMP community; everyone jumped in with two feet to share their knowledge and build offline friendships.  
The #AMP Contributor Summit 2019 at Google NYC has been so 🔥 I haven't had time to tweet. If you want performance, use @AMPhtml – it's an HTML framework. Mind blowing announcements! The evening ended with Livin' On a Prayer! #AMPcs2019 pic.twitter.com/bMMVZjY3wC

— Anna Nerezova (@blv) 10 October 2019
New friendships are born during the #ampcs2019. Today I got to explore some of #nyc with @mufaddalmm! pic.twitter.com/IsPvu5aEDD

— Juan Lizarazo (@JuanLizarazoG) 11 October 2019
3 fantastic days of inspiration, learning and connecting to those who make @amphtml happen at the AMP Contributor Summit 2019 at Google NYC. The force is strong with #AMP – an HTML framework, part of the @openjsf foundation. It will be rewritten in Preact! Thank you, #AMPcs2019! pic.twitter.com/J6hpK5YEw7

— Anna Nerezova (@blv) October 11, 2019
The feedback on this year's Summit has been so positive – and we're pumped about the direction our wonderful contributors are taking AMP in. For everyone that came along for the ride – we'd like to sincerely thank you for helping to build and improve upon AMP.
We can't wait to see the exciting times ahead for AMP, but we need your help. If you're interested in contributing, join one of our working groups and get involved today! Have specific questions on getting involved? Join in the conversation on our Slack channel. Curious about the talks given during the summit? Check out the presentation decks here and stay tuned to our YouTube channel, where we'll be uploading videos of all the talks in the coming weeks. 
Written by Alex Durán, AMP Project Marketing Lead at Google