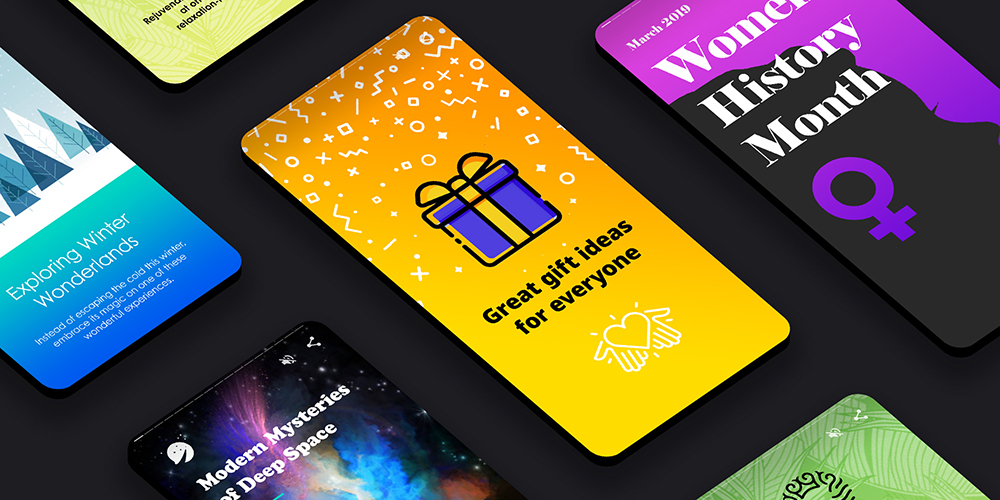 Web Stories are a new, exciting medium for storytelling on the web powered by AMP. The format is based on the same concept as familiar Stories features in popular social networking apps but intended for more general purpose content from "how to apply lip gloss the right way" to a "travel guide through the Himalayas". Importantly, Web Stories are just web pages. They have a URL on your web server, they are linkable, they can link out to other web pages, and they can appear in search results. With that the biggest takeaway for SEO of Stories is:
Do all the SEO things you would do for any other page on your website. If it helps rank your non-Story pages, it'll probably help the Stories as well.
In particular, just like other pages on your site, make sure your Stories are linked from within your website so that your users and bots can actually discover them. If you are using a sitemap, make sure to include your Stories in that sitemap. If you are posting your regular web pages to social media, post your Stories as well. We could go on here, but the gist really comes down to: Follow the best practices you're already applying to the rest of your website.
Stories specific SEO tactics
Given the relative newness of this format on the web and its unique characteristics, there are SEO tactics specific to Stories. These tactics aren't comprehensive and should be augmented with all the standard SEO work being done for your web pages that's described above.
Metadata
Web Stories have a built-in mechanism to attach metadata to a Story. Make sure all your Stories follow these metadata guidelines. This ensures maximum compatibility with search engines and discovery features that take advantage of that metadata.
Additionally, make sure you include all the title, description, schema.org, OGP, Twitter card, etc. markup you would include in any other web page. For Google-specific guidance, see their developer docs on Web Stories.
Linking to Stories
We recommend deeply integrating Stories into your website such as linking them from your homepage or category pages where applicable. E.g. if your Story is about a travel destination and you have a page that lists all your travel articles, then also link the Stories on that category page. An additional special landing page like www.example.com/stories (which would then be linked from key pages like your homepage) might also make sense.
Links from within your site and to other websites are a critical component of how the web works and optimizing for discoverability. As Stories are web pages themselves, this is also true for them.
URL format
There is no need to indicate in the URL of a Story that it is using the Web Stories format or AMP Stories technology. Ideally your Stories are integrated into a wider URL strategy. For example, if your "New York Travel" articles are using a format like "/new-york/travel/title-of-article.html" then consider using the exact same directory structure and URL format for your Stories.
Page attachments
Page attachments can be used to present additional information in "classic article form" alongside your Story. This can be useful to provide extra detail, deep dives, or onward journeys for the content presented in your Story.
Image descriptions
While this best practice technically applies to all web pages, we have seen folks omit "alt" text for images in Stories. We strongly recommend adding meaningful "alt" text where appropriate to optimize for accessibility and indexability of your content.
Video subtitles
Consider providing subtitles and/or captions for the videos in your Stories.
Video-only Stories
We recommend that you take full advantage of semantic HTML to build up your story. However, some tools designed for the social media use case may instead export a story such that each slide is represented as a video file that bakes in all the text into the video. In this case it is recommended to add the precise text displayed inside of the video as a "title" attribute on the amp-video element. Again, only do this if you absolutely cannot use semantic markup in your Stories generation.
Desktop
While the Stories format is traditionally associated with mobile consumption, Web Stories also work on desktop with optional support for landscape displays. This means that your Stories can also appear in desktop search results without any extra work.
AMP's canonical-pairing is not supported
Although Web Stories are created using the AMP framework, Web Stories should be self-canonical. That is, the <link rel="amphtml"..> pairing that is frequently used by AMP Pages is not available for Stories. A long form article (or standalone video) and a Web Story about the same topic are different stand-alone web experiences; one should not be canonical for the other. However, if you have a separate story webpage with the same content as a Web Story, you should consider making the Web Story canonical. Make sure to AMP-validate your Web Stories.
The Secret of SEO
As a final reminder: Content is king! Like any web page, providing high quality content that is useful and interesting to your users is and will always be the most important "SEO tactic" that cannot be ignored and takes precedence above all else. Include a complete narrative and follow these best practices to take advantage of the unique characteristics of the format to keep the users engaged. 
Summary
SEO for Stories is like SEO for any other web page. Your SEO skills should translate 1:1 to Stories. A limited number of Stories-specific SEO best practices exist and they are documented in this blog post. Finally, remember to include high quality content and good luck optimizing your Stories!
Posted by Flavio Palandri Antonelli, Software Engineer at Google
Updated March 24, 2020 to clarify how AMP's canonical-pairing is not supported by Web Stories.
Updated May 20, 2020 add link to Web Stories on Google Search.