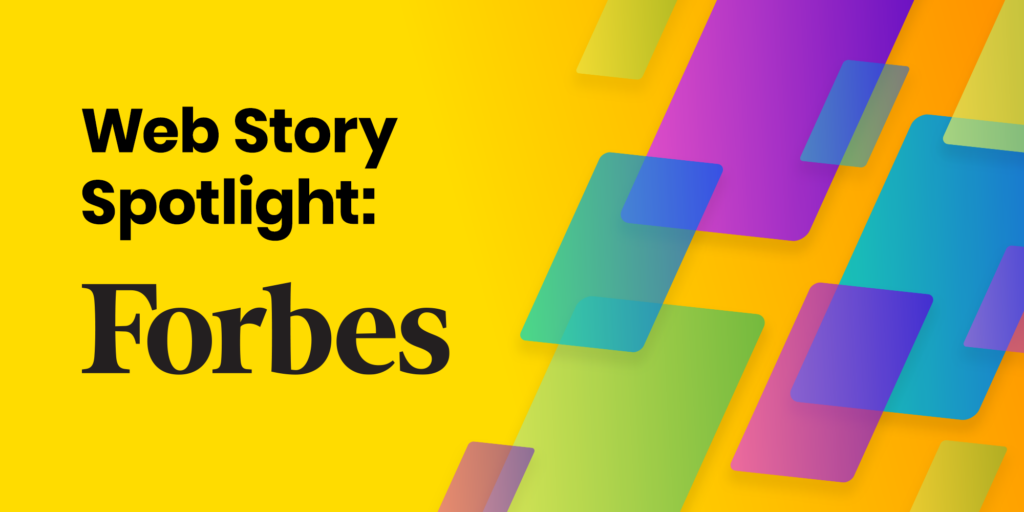 Editor's note: We're starting a series of blogposts on Web Stories, a content format that lets publishers and other content creators easily produce fast-loading, full-screen experiences that bring together visual narratives, engaging animations, and tappable interactions that belong entirely to them.
For this first entry of the series, we sat down with Forbes Design Director Alicia Hallett-Chan to learn about her Web Stories publishing experience.
---
Forbes magazine is best known for its coverage of the world's wealthiest, most powerful, most successful business people. The traditional and online publisher reports on innovation, leadership, money, business, and lifestyle.
Recently, Forbes.com began working with Google to add Web Stories to their content mix. We spoke with Design Director Alicia Hallett-Chan about Forbes.com's approach to creating Web Stories. She chose "Whiskey 101: What to Know About Bourbon, Scotch, Rye, and More" as an example to give us a close-up shot of the brand's creative process.  
How did you decide to create the Whiskey 101 Web Story?
Alicia Hallett-Chan: We originally ran "You're Probably Wrong About Whiskey And Bourbon. Here's The Truth." as a long-form, interview-type article, working with some of the most credible distillers to answer questions like, "Just how important is the barrel to bourbon?" or "Is it acceptable to add a drop of water to bourbon before drinking?" We then identified it for a Web Story because we had great photos and quotes from people at the distilleries. So we needed to pare it down to 15 to 20 pages.
What type of stories work best as Web Stories?
AHC: Web Stories are a great format to tell short-form, visual, first-person narratives that are optimized for mobile devices. A good Web Story should be lighter on copy and heavier on imagery. So we can tell the whiskey story through animated quotes, looping video, and photography. And we're able to rely on short bits of copy with full-bleed images and videos. It's visually impactful and helps drive the reader throughout the story. 
It was really helpful to have the Web Story guidelines at the very beginning, which suggested focusing on evergreen content and lifestyle stories. So most of our stories are within travel, auto, spirits, entertainment, health, gaming, and general lifestyle categories. It's a short-form, snackable way to tell that story. 
Forbes.com now produces about five Web Stories a week on topics ranging from "NBA Team Values 2020" to "The Most Romantic Private Islands You Can Rent." We look to create stories readers can see themselves in, benefit from, relate to, or aspire to. We look for what's going on in the world today and what interests and engages our readers.  
Tell us about the design elements in your Web Stories. Any tips or tricks to share? 
AHC:  We like to feature people on the cover when possible, such as in "The Highest-Earning Podcasters" and "Ten Richest People in the World 2020." It's really important to have an informative headline to tell people what they'll get out of the story, like "Whiskey 101: What to Know About Bourbon, Rye, Scotch, and More." It's all there. It's very clear. 
Many times we're creating custom animations where the video is interacting or overlapping with the typography. And I think that's really fun! Animation and motion are great ways to draw in the reader's attention, whether it's the text sliding in or an image panning. Even if you don't have video for every story, there are still ways to incorporate motion. Just be sure it doesn't seem gimmicky. 
How do readers find your Web Stories?
AHC: We serve them as stand-alone stories on Forbes.com, which readers can find through search. Now, we're looking into how we could embed Web Stories into our long-form articles and have them live inside their own ecosystem on Forbes.com. We're still in the early stages of the process, and our editors are open to brainstorming new ideas for a Web Stories-first execution. 
Any other plans for Forbes.com and Web Stories in the future?
AHC: We're talking about doing a video-only execution. We haven't done that yet, but we do have a lot of great examples. It will be different from a workflow perspective, as we currently put all the copy and captions into the pages with Newsroom AI. The captioning needs to work across an iPad or an iPhone X, and all of the Android devices. We want to make sure that our stories are always responsive across platforms. I'm really looking forward to seeing how far we can take the Forbes storytelling on this platform.
Your advice for other publishers considering the Web Story format? 
AHC: Give your audience relevant content—understanding that we're in very difficult times right now. Think about your evergreen content and how you could repackage your top-performing stories in this new, snackable format in a really smart way. And it doesn't even have to be video based; it could be a long-form article like the whiskey piece, where we took out individual quotes to get those 15 pages. So I think most stories, if you really look at them and try to slow them down, could be turned into a Web Story.

Learn how to get started with Web Stories today with our guides, tutorials, and other tools.