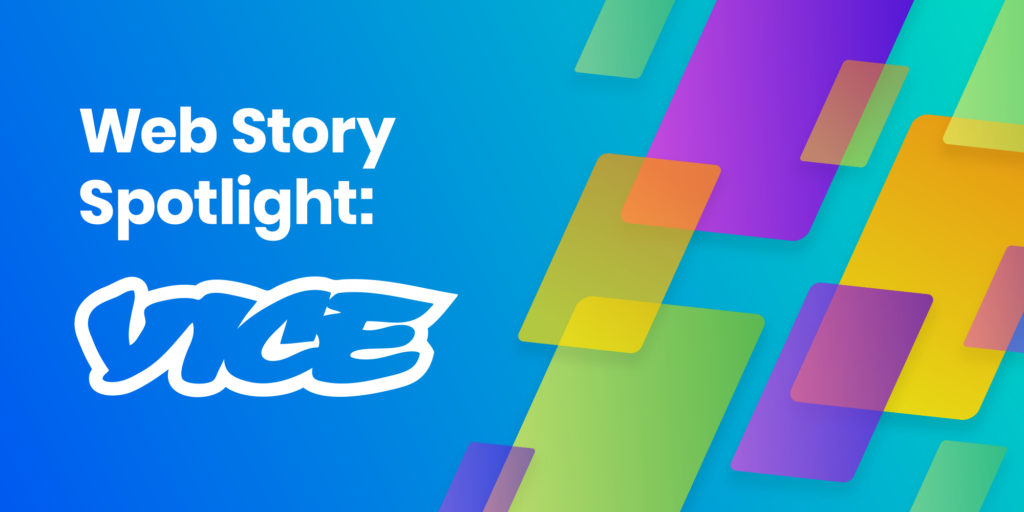 Editor's note: We're running a series of blogposts on Web Stories, a content format that lets publishers and other content creators easily produce fast-loading, full-screen experiences that bring together visual narratives, engaging animations, and tappable interactions that entirely belong to them.
For this edition, we chatted with VICE Digital's Senior Director of Innovation Sarah Singer to learn how VICE uses Web Stories to help readers find fun ways to stay healthy and fit.
---
VICE Media Group is an international media company with offices in 35 cities around the world. The brand has a reputation for edgy investigative journalism. VICE Digital, which covers news, tech, music, food, health, identity, money, and more, began publishing Web Stories in mid-March 2020 and is now producing over 10 stories a week. "We wanted to meet our audience in this moment by engaging them in this powerful storytelling format," shares VICE Senior Director of Innovation Sarah Singer. 
How did VICE decide to start publishing Web Stories on cooking and fitness? 
Sarah Singer: We wanted to create evergreen content to tap into what people are searching for online today, especially things to help them support their physical and emotional health. Our cooking and fitness franchises provided great content for VICE to start populating our Web Stories. For example, we adapted a long-form article from our Munchies channel to create How to Make a Recipe Work if You Don't Have All the Ingredients. This appeals to people who want to make something from just what they have stocked in their pantries.
As another example, we adapted a vertical video from our Ask a Swole Woman series featuring Editorial Director Casey Johnson. [Editor's note: "Swole" means muscular or jacked.] In How to Get Swole at Home, Casey guides readers through a workout using just a few fitness tools. 
And since mental health is top of mind, we also did a wellness piece called Virtual Therapy Kind of Sucks: Here's How to Make It Better.
What about the Web Stories format appeals to VICE readers?
SS: Web Stories are highly visual, they're highly dynamic, and the format itself is so cool in terms of the user experience and consuming mobile video. That's really inspiring to me. Web Stories goes beyond video—a passive experience where you just click "Play." Here, you can determine the speed at which you go through a story, which is a more dynamic, engaging, and active viewing experience. For how-to stories like our cooking and fitness stories, this allows readers to slow down and go back and review any page. 
In addition to how-to stories, have you published other types of Web Stories? 
SS: We like to use Web Stories to transport readers to another place. A great example is Dog Utopia: The Town with More Dogs Than People. It's about a refuge in Costa Rica for over 1,000 stray dogs, adapted from our VICE Shorties videos. We also adapt Web Stories based on photo essays, such as Eerie Photos of LA on Lockdown and Photos of LGBTQ People's Chosen Families. Whether using video or still photography, we try to distill our VICE stories into their essence for Web Stories. 
How did you learn to build your Web Stories? Did you use a story builder? 
SS: For the videos, we recut the original videos most of which were edited into a 16×9 format. We then uploaded the vertical cuts into the VICE-branded templates we built out for Newsroom AI.
For the videos that were shot and edited in vertical originally, we upload the files without doing another visual edit. For the text-based stories, we write a script based on the narrative arc of the original story, and then build out individual story pages according to that script in the Newsroom CMS. We add the templates and VICE branding to the pages from there. 
How do Web Stories help you keep readers engaged with VICE content? 
SS: We plan on experimenting with storytelling and building strong narratives in the format, then allowing users to continue to engage with VICE after they've completed this experience. We put a link to other VICE properties at the end of every Web Story. Sometimes it's an article, a YouTube page, a newsletter subscription page, a landing page…it depends on where we think the audience would want to engage further after completing the story.  
Any future plans for using Web Stories to share VICE content? 
SS: We hope to build as many Web Stories as possible and adapt as much of VICE's tremendous library of content to this format as we can. Right now, users primarily find our Web Stories through online search or platforms like Google Discover. Down the line, we hope to house all these Web Stories within the online ecosystem of VICE. We're excited about the multi-platform potential of this format and to bring our journalism to a broader, mobile audience. We want to build high-quality, thoughtful storytelling that can be best experienced in the Web Stories format. 
What would you tell other publishers thinking about trying Web Stories?
SS: Building Web Stories is a creative endeavor. It's like looking at a blank canvas and figuring out how to adapt great storytelling to this format. When starting to build Web Stories, make sure to tap through and experience them as a consumer would. Gaining appreciation for the format as a user will help you create the best Web Stories possible for your brand.
Learn how to get started with Web Stories today with our guides, tutorials, and other tools.