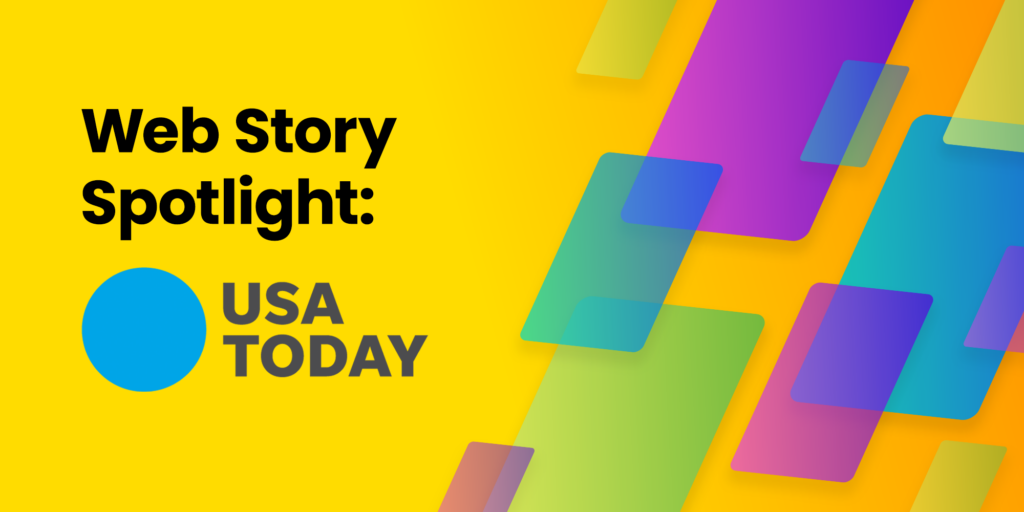 Editor's note: We're running a series of blogposts on Web Stories, a content format that lets publishers and other content creators easily produce fast-loading, full-screen experiences that bring together visual narratives, engaging animations, and tappable interactions that entirely belong to them. In this edition, Alexandra Ptachick, Audience Editor of Emerging Platforms at USA TODAY, talks about how the popular news daily engages readers on timely topics with Web Stories. 
Founded by media company Gannett, USA TODAY debuted in 1982 as the first national newspaper to feature color graphics and photos as part of its brand identity. Now, more than 30 years later, the popular news daily has gained international distribution and continues to blaze trails in journalism, with high-quality graphics a priority for both its print and digital editions.
Seeking ways to engage readers using mobile devices, Gannett's Innovation Lab began experimenting with different storytelling platforms. In September 2018, the publisher released a Web Story called "Who runs the world? Girls!" about Beyoncé, which was posted on USA TODAY. The story quickly made its way to USA TODAY's Audience Editor of Emerging Platforms, Alexandra Ptachick. It was enough to convince her that like "Queen Bey," the Web Stories format was powerful and captivating. 
In May 2019, USA TODAY began regularly publishing Web Stories. The first one showed the destruction and devastation one year after Hawaii's Kilauea volcano erupted. It offered dramatic photo and video highlights from the news site's in-depth feature on residents struggling to recover. This story brought in 250K page views and won third place for digital storytelling in the USA TODAY Network's quarterly journalism awards. It was the first Web Story to win an award, but not the last. Later in 2019, an in-depth investigation on U.S. immigration, which included a Web Story, won first place in USA TODAY's digital storytelling category.
USA TODAY now features Web Stories on a range of newsworthy and timely topics—from what's making news, to entertainment, lifestyle, and travel. 
How did USA TODAY hope to engage readers with Web Stories? 
Alexandra Ptachick (AP): Unlike other storytelling platforms where stories only live for 24 hours, Web Stories live on for eternity. Readers discover our Web Stories through Google Search and Google Discover. It's a whole new audience for us, which is really exciting. Web Stories gives us an opportunity to expand our audience to people who haven't discovered USA TODAY. We want to reach readers of all ages who search for and read news on their smartphones.
What types of news stories work best as Web Stories? 
AP: Web Stories gives us a really nice way to break down complex news topics. For example, we did one on why mail-in voting is so controversial and another on systemic racism. Both were in addition to longer features on our website, so we already had the visual assets at our disposal. Our goal is to think about what people might be searching for and educate them so they can stay informed.
How about culture and lifestyle topics?
AP: Our travel and lifestyle stories include BEST Road trips USA, Tips for decorating a cake, Old-school hobbies making a comeback, and How to pick the best watermelon. We usually link to the full article at the end of each Web Story.
How do you build Web Stories? Do you use a story builder tool?
AP: Some of the older ones, such as the road trips story, started off as a storyboard that was handed off to a designer to pull in graphics, photos, and video, and then hand-coded. Since April 2020, we have used Newsroom AI, which makes it easier for our team to create Web Stories. We have such a great group of people with different skill sets; one specializes in video editing, another is a graphic designer, and the third can pretty much do it all—video, graphics, illustrations, animations, and even write code. We're all working on Web Stories together. 
What do you think most appeals to readers about Web Stories?
AP: Web Stories are interactive, colorful, and have movement so that really helps draw readers in. The "best road trips" story is a good example. It starts off with a cover graphic, and then this little camper van comes scrolling across the screen like, "Hey, come with us to this next page." It's giving some visual direction to encourage readers to tap through. 
Do you need to customize any assets to fit the Web Stories format? 
AP: The vertical orientation of Web Stories pages isn't a composition we use across all social platforms. So a word I like to use is "reversion." We've had to "reversion" [resize] a few of the horizontal graphics to fit in a vertical space. 
Do you create any original graphics for your Web Stories? 
AP: While we try to repurpose assets from features on the USA TODAY website, we sometimes create our own graphics. The old-school hobbies piece was a text-only story published on the website, so we created animations specifically for that. Our graphic designers and data visualization teams come up with some really great graphics. They're visual and provide just enough text and information to keep readers tapping through the pages. 
How do you envision using Web Stories in the future? 
AP: The other Gannett brands publishing Web Stories are 10Best, Reviewed, and Golfweek. Together, these brands have a vast library of articles that we can turn into Web Stories. As a group, we've published nearly 600 Web Stories! 
As a news organization, it's important for us to be able to break down complex topics and make them digestible, to educate our audience and combat misinformation out there. We also need to serve readers who are closing their laptops and turning to their mobile phones more and more for news. Web Stories helps us do that.  
Our high-quality visuals, including photos, video, and graphics work really nicely in this format. We're also looking forward to Newsroom AI launching a magazine format for publishers, where all our Web Stories can be featured in one place. As a whole, USA TODAY believes in a digital audience. We are always thinking mobile—and using Web Stories directly aligns with our goal to build a new audience.
Learn how to get started with Web Stories today with our guides, tutorials, and other tools.