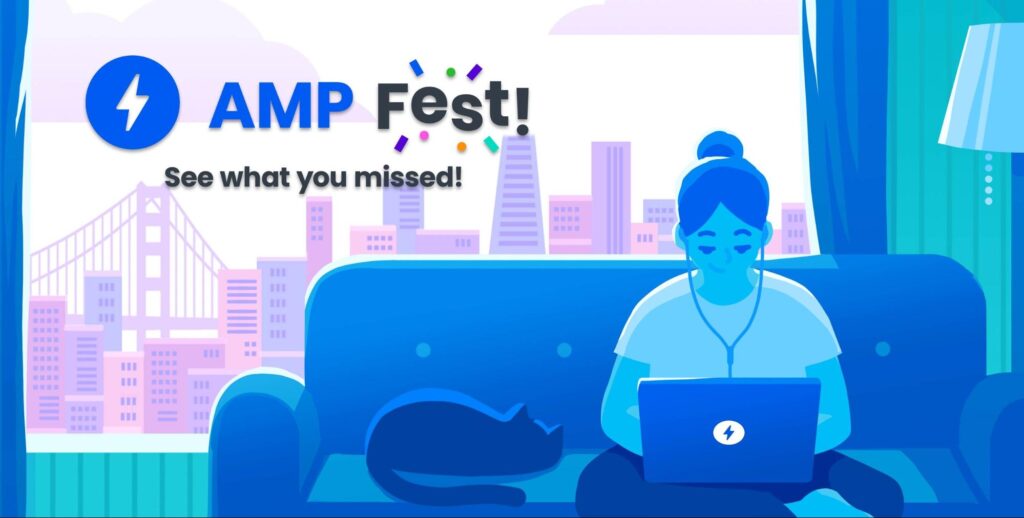 Just over three weeks ago we held our first ever AMP Fest, where we gathered online as a community to share the latest and greatest in the world of AMP. From the launch of the new AMP Page Experience Guide, to exciting new client support for AMP For Email, AMP Fest was filled with amazing developments across the entire AMP ecosystem.
Read on to relive AMP Fest and learn about all the news you might have missed:
AMP and page experience
One of the most exciting updates to come out of AMP Fest was the work around building great page experiences. AMP was developed to help enable development of user-first sites, and we believe AMP is a cost-effective and simple solution for publishers to create a great page experience. In line with this, we shared that 60% of AMP domains pass* the Core Web Vitals metrics, compared to 12% of non-AMP domains passing the same criteria. 
* "pass" means 75% of pages on the domain passed the Core Web Vitals metrics.
To help achieve our goal of getting every last AMP page to pass those metrics, we also released the AMP Page Experience Guide, a new tool that provides AMP developers with AMP-specific actionable feedback on how to improve their AMP page's performance. With it comes a guarantee that if an AMP page doesn't meet page experience signals we are able to either provide actionable feedback or provide personal support as a last resort to help address performance issues.
Web Stories
Earlier this year we announced that we were transitioning the AMP Stories name to Web Stories, given the expanding universe of creators and consumers enjoying the format using #nocode tools. Since then we've seen the format continue to be adopted by publishers and Web Creators alike.
Building on that momentum, we announced new updates coming to the Web Stories format, including customizable quiz and polling functionality, 360 video integration, and the ability to embed Web Stories directly on a site with a rich open source Story Player. This follows the recent announcement from the Web Stories team at Google that Web Stories are coming to Discover, part of the Google app on Android and iOS and used by more than 800 million people each month.
AMP For Email
AMP for Email has now been commercially available for more than a year and a half, and we are still constantly surprised at the new use cases we see for dynamic email every day. At AMP Fest we announced that Verizon Media (Yahoo Mail) launched their developer preview for AMP, and AMP Emails will be coming to Salesforce Marketing Cloud in Q1, 2021. We are so thrilled to help bring dynamic email to millions of new users. 
The types of experiences AMP For Email senders bring to their customers have absolutely inspired and delighted us, and at AMP Fest we featured several senders who are using AMP Emails to help their customers and clients save time and money. Watch the talk below to see the impressive results dynamic emails are bringing to all kinds of email senders:
AMP success around the world
With so much exciting news coming out of the event, it was great to feature AMP developers and site owners from across the globe who shared their AMP implementation stories and shared tips on how to get the best out of AMP. 
Violeta Rosales, a Software Engineering Manager at Uno TV, walked us through how the digital news outlet transitioned its website to be AMP First, as well as the benefits and challenges that Uno TV faced in that transition. 
Yosuke Furukawa, a Senior Software Engineer at Recruit, walked us through tips for building an AMP First website while covering framework topics such as Next.js, all the way to operational strategies like off-cache AMP. 
Antonio González de León, the CTO of Televisa Digital, shared lessons from Televisa's transition to AMP First, as well as other lessons that newer publishers and developers can learn from veterans of the media industry. 
Thomas Feldhaus, the managing director of JvM TECH walked us through how AMP helps agencies speed up the production process of their websites for clients while always ensuring a consistently high quality of execution. 
And finally, Jason Caldwell, the Growth Engineering Lead at Automattic, shared how going AMP First helped WordPress.com boost conversion rates, lower acquisition costs, and improve the performance of key WordPress.com landing pages.
Thank you!
There were so many amazing talks that we weren't able to feature them all in this recap, so be sure to check out the event playlist to rewatch them all and relive the excitement. We want to thank everyone who helped make the event such a success. AMP has evolved so much since it was introduced just over 5 years ago, and we are more excited than ever for AMP's bright future ahead!
Posted by Alex Durán, AMP Project Marketing at Google