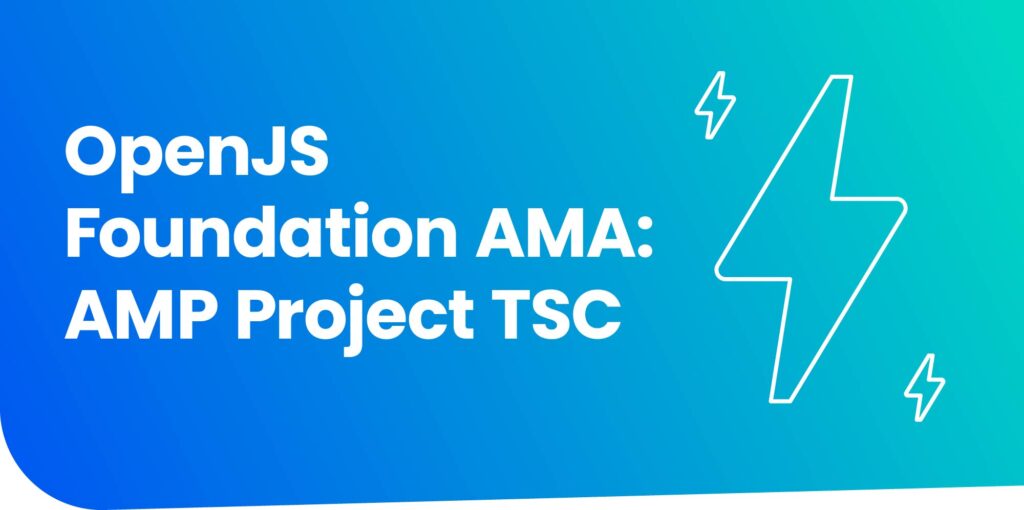 Editor's note: the following post originally appeared on the OpenJS Foundation Blog
The AMP Project joined the OpenJS Foundation this past summer as a Growth project, aiming to create a more "user-first" open web experience for all. In this AMA, users were able to ask questions via Twitter (#AskAMP) and live YouTube chat. This AMA followed AMP Fest, which can be viewed here. AMP Fest focuses on content where participants could "learn about the latest ways the community is working to make the web better for everyone – publishers, platforms, advertisers, creators, and of course, users."
Moderated by Naina Raisinghani, the AMA was a way to learn more about the project with David Strauss, Chris Papazian, Dima Voytenko, Malte Ubl, Saulo Santos, Kasiana McLenaghan, and Rudy Galfi.
Questions ranged from what project individuals were most excited about to whether there should be ramifications or praise for net neutrality or the lack thereof. The talk took a mix of inquiries from chat and preset questions. 
Timestamps
0:00 Brief Introduction
1:09 Introduction
4:42 AMP Fest Recap
6:10 AMP Projects You're Excited About?
9:50 Can TSC Share What Platforms Support AMP?
11:47 What Is The Most Critical Part of Stories?
15:25 What's One Use Case For AMP In Email? 
19:20 Does the TSC Have Any Thoughts On NYT Content Application Framework Proposal? 
25:20 What Improvements Does The TSC Want To Make In The New Year?
31:35 Will Websites Need AMP and HTML To Get Picked Up By Publishing Platforms?
40:20 More Approachable Architectural Options For HTML Conversion On High Volume Sites
43:58 Do You See The Project Working On Components Or User-Built Components 
48:44 Should Publishers or Companies Be Encouraged or Penalized For Prioritizing Websites?
50:45 Are There Any Updates On AMP Runtime Giving a PWA For Navigating Amongst AMP Pages. Any Update?
52:00 Any Chance That People Will Be Able to Embed>React>AMP as Opposed to Embed>AMP>React?
56:00 Closing Thoughts