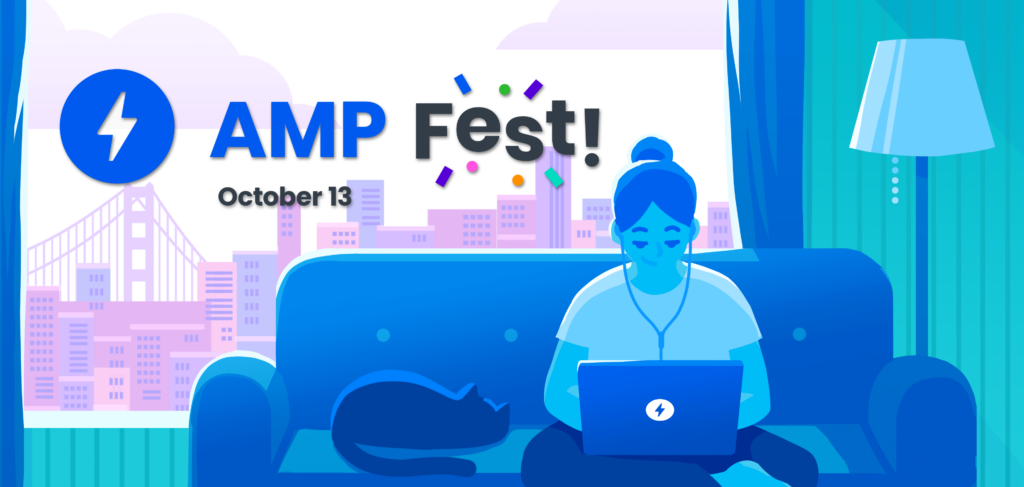 Last year, 500 of us came together in Tokyo for AMP Conf 2019. Thousands more of you tuned in online as we shared the latest AMP news and learned from the thousands of developers engaged with the open source project. We were hoping to reassemble the AMP community in New York earlier this year, but sadly we had to postpone our in-person event. Even with much of the AMP community working from home this year, 2020 has been a major year of progress for the AMP Project's mission: a strong, user-first open web forever.
This year, AMP graduated from the OpenJS Foundation Incubation Program to become an OpenJS Growth Project, and Google introduced the new page experience ranking signal for Search. We're excited about the future of AMP as a way everyone can create great page experiences for all users, and we are eager to share it with you! With that, we are thrilled to invite you to AMP Fest on Oct 13th for our first-ever online gathering of the AMP community!
AMP Fest will be free and open to everyone. Join us as we celebrate 5 years of AMP and learn about the latest ways the AMP community is working to make the web better for everyone – publishers, platforms, advertisers, creators, and of course, users. Expect to learn more about how AMP performs on Core Web Vitals, how Web Stories are reaching new audiences, how AMP is helping developers and publishers cut costs and save time with their websites, how AMP For Email is only just getting started, and much more on the future of the AMP Project!
You can register for the event here. We'll remind you to tune in as we get closer to the event. You can also find more details on the agenda here, and we'll be updating the page with more info on speakers and talks in the coming weeks. Follow us on Twitter to stay in the know. We look forward to seeing many of you online later this year!
Posted by Alex Durán, AMP Project Marketing at Google